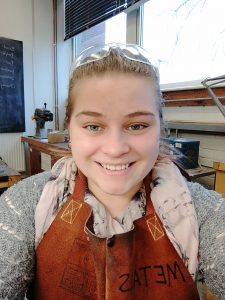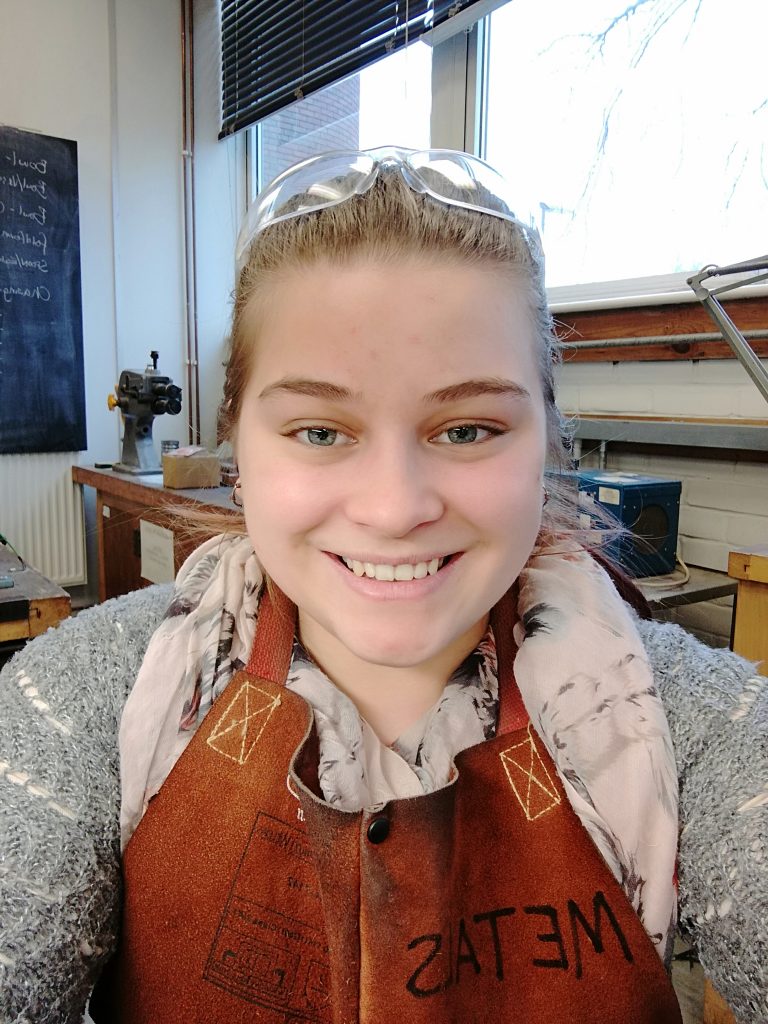 Abigail J Marsh is a designer, maker and silversmith based in Bordon, Hampshire. She graduated from university with a first-class degree in BA (Hons) Jewellery at the University for the Creative Arts, Farnham and is a member of the Institute of Professional Goldsmiths.
Abigail creates unique and one-off pieces celebrating materials. Using traditional methods of making in a contemporary way her work celebrates the real craftsmanship of silversmithing and the skill of the maker's hand to its best.
It was at university where Abigail's passion for silversmithing was discovered. Her passion is hand raising, the process of growing a piece from a sheet of metal. This method of making has gone on to inform many of her designs and pieces. Her exploration and variation of this skill have allowed her to push the boundaries of the materials, testing their limits to create new and exciting ideas for contemporary silverware. This has also gone on to inform her jewellery pieces. Bringing the traditional methods together with playful and meaningful design.
"It takes time, patience and focus to create a beautiful piece by hand. A single modification can change the whole piece for better or for worse." – Abigail J Marsh
Goldsmiths Summer School
Abigail took part in The Goldsmiths Summer School in 2016. This opportunity was a weeks teaching by professionals in the silversmithing industry as well as gaining contacts to help the individual maker grow. Abigail took part in hands on lessons in hand raise and spin vessels in copper, as well as a visit to the Goldsmiths Hall to the vault and the library. This experience allowed Abigail to grow as a maker and develop her skills during her time at university as well as building her contacts within the industry. 
To find out more about this course please you the link. Click here to find out more. University for the Creative Arts Artist in Residence
Institute of Professional Goldsmiths
In August 2019, Abigail was presented with her membership to the Institute of Professional Goldsmiths after being selected to take part in a mentoring scheme with other professional goldsmiths. This scheme allowed Abigail to share skills and learn new techniques as well as discuss what it is like to be part of the silversmithing industry. To read more about the scheme and a quote from Abigail about the her experience please click the link. Click here to find out more
Awards
Awarded Membership to the Institute of Professional Goldsmiths 2019
Shortlisted for the Make Your Mark Awards 2019
Talent Spotted at New Designers by the Goldsmiths' Centre 2018
Shortlisted for the Make Your Mark Awards 2017